Going Green To Fight Environmental Abuse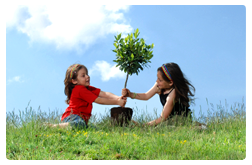 Ontree is committed to the preservation of the urban forest and the ecosystem that supports it. We've been "going green" long before that term and the actions associated with it were in vogue. It's more than a commitment; it's part of our DNA. What better way to contribute to "going green" than to preserve and enhance the health of the green canopy that is the best natural pollution filtration system in a city?
In fact, the primary motivation behind the recent spate of municipal private tree by-laws is that politicians have finally heard what arborists and scientists have been saying for years: as a strategy, the maintenance and enhancement of the urban forest is an extremely important, and perhaps the most cost effective, weapon cities can use to combat environmental abuse.
The tangible benefits of trees are major and include:
Producing oxygen
Cleaning the soil and the air
Filtering noise
Controlling storm water runoff

Acting as carbon sinks
Providing shade and shelter from heat
Acting as windbreaks
The primary by-product of Ontree's services is wood. All healthy wood is diverted from landfill sites and gets recycled. Wood chips are used at local farms and nurseries, while larger wood is used in various ways, including milling, wood carving and firewood.
Most of our fleet are newer lower emission emitting vehicles. Ontree also routinely purchases fuel-efficient equipment. All of Ontree's stationary is 100% recycled and we maintain an internal recycling system in our office. Finally, Ontree recently became Bullfrog powered.