Toronto Arborists Specialize In Diagnosing And Consulting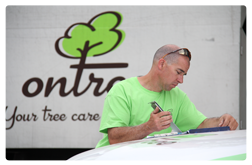 Ontree's ISA Certified Arborists are available to discuss your tree related questions and provide reliable advice that is easy to understand and implement.
Whether you have a specific issue with a declining or unhealthy tree, or need general advice for the care of your trees, Ontree can provide you with the information you need to make the correct choices.
Arborist Reports
Most cities in the GTA now have tree by-laws that protect trees, even on private property. Ontree's clients make frequent use of our ISA Certified Arborists to provide accurate arborist reports that can satisfy the requirements of local tree by-laws.
Homeowners, builders and developers looking to implement any construction activities usually require tree preservation plans and/or permits to injure or remove protected trees. Ontree's ISA Certified Arborists have been creating tree preservation plans since the implementation of Ontario's first municipal private tree by-laws passed by the City of Toronto in the 1990's.
Our arborists can assist with the following types of reports:
| | | |
| --- | --- | --- |
| Tree inventories | | Tree assessments |
| Tree valuations | | Tree preservation plans |
Ontree's ISA Certified Arborists are also qualified for and experienced in providing expert opinions for both plaintiffs and defendants in either court cases or at OMB hearings. Our arborists also provide written reports that can be used as court or OMB evidence.