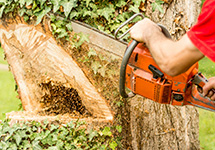 The specialists at Ontree have been providing exceptional tree care services for residential and commercial property owners in Etobicoke since the company was founded 30 years ago.  These skilled professionals possess the knowledge and expertise that these property owners need to help sustain the health and appearance of their trees and shrubs, hence permitting them to enrich the beauty of their landscaping and to increase the value of their real estate.
Homeowners within Etobicoke are most likely aware that unkempt, overgrown, or unhealthy trees and shrubs can diminish the overall look and curb appeal of the property and therefore sway public attitudes about the value of their home; similarly, business owners or managers will fully appreciate the importance of aesthetics in relation to promoting customer traffic, maintaining or increasing occupancy rates, and influencing opinions about service levels and product quality. All too often however, the size, age, and positioning of any trees on a lot can present challenges to the property owner in terms of properly caring for their trees.
Therefore, to safeguard the health of their trees and retain the curb appeal/character they want and need for their properties, homeowners and business owners in Etobicoke can call Ontree at 416-412-2100 to obtain professional tree trimming or tree removal services.
Ontree Offers Complete Tree Care Services and Certified Arborist Reports
Tree care services offered by Ontree's knowledgeable crews and certified arborists include:
Tree Care Services
Certified Arborist Reports

Tree Inventories
Tree Assessments
Appraisals/Valuations
Tree Preservation Plans
Tree Removal and Tree Care Services for Various Types of Properties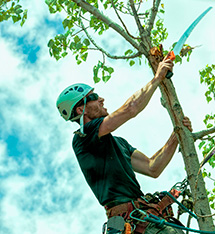 The staff from Ontree can capably address the tree care needs, including any tree trimming and tree/stump removals, for owners of the following types of properties within Etobicoke:
Residential
Commercial
Multi-Residential
Municipal Complexes
Recreational Facilities
Educational Institutions
Churches/Places of Worship
Residential and Commercial Tree Care Services for Etobicoke
Residents of Etobicoke who appreciate nature's landscapes or perhaps enjoy participating in outdoor activities can select from many striking settings located within Etobicoke; the more prominent of these local parks and properties would include:
James Gardens
Centennial Park
Marie Curtis Park

Humber Bay Park
Colonel Sam Smith Park
The residential and commercial properties of Etobicoke can offer an appeal and atmosphere that is similar to these public venues; this type of charm can be attained through the expert tree care and certified arborist services provided by the specialists from Ontree.
Ontree's teams have been providing high-quality tree care, including tree trimming and tree and stump removal services, in such Etobicoke neighbourhoods as Alderwood, Long Branch, and Mimico, for the last three decades.  As one of the leading tree care companies servicing Etobicoke, the crews and arborists from Ontree can frequently be seen attending to the tree care needs of homeowners and commercial property owners within these areas in a skilled and competent manner.
A professional tree care service provider can help achieve and/or maintain curb appeal while protecting or increasing market values for residential or commercial properties in Etobicoke.  Call the tree trimming and tree removal specialists at Ontree today at 416-412-2100 to book a complimentary assessment of the specific needs for your property.