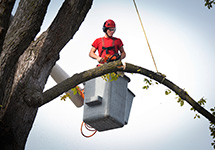 The experts from Ontree have been providing superior tree care services for the residential and commercial property owners in Markham since the company was first established three decades ago. Ontree's professionals have the experience and the capabilities that property owners need to maintain the health and beauty of their trees and shrubs, thus helping them in enhancing the beauty of their landscape designs and increasing their real estate values.
Markham homeowners are undoubtedly aware that unkempt, overgrown, or unhealthy trees and shrubs can adversely affect the curb appeal of their property and hence influence public opinion about the value of their home; in a parallel fashion, business owners/managers will fully grasp the importance of curb appeal in relation to customer traffic, occupancy/tenancy rates, and perceptions about the quality of available products/services. Quite often though, tree size, age, and/or orientation on the lot can pose challenges to property owners in terms of adequately caring for their trees.
Therefore, to uphold the look and health of their trees and to maintain the appearance they want/need for their properties, residents and business owners/managers in Markham can call on Ontree at 416-412-2100 for expert tree trimming or tree removal services.
Ontree Provides Comprehensive Tree Care Services and Certified Arborist Reports
Tree care services offered by Ontree's knowledgeable crews and qualified arborists include:
Tree Care Services
Certified Arborist Reports

Tree Inventories
Tree Assessments
Appraisals/Valuations
Tree Preservation Plans
Tree Removal and Tree Care Services for Many Types of Properties
The crews at Ontree can competently attend to the tree care needs, including tree trimming and tree removal, for owners of the following types of properties in the City of Markham:
Residential
Commercial
Multi-Residential
Municipal Complexes
Recreational Facilities
Educational Institutions
Churches/Places of Worship
Residential and Commercial Tree Care Services in Markham
City of Markham residents who truly appreciate the splendor of natural landscaping and/or who enjoy taking part in outdoor activities can choose from several stellar sites within their community; some of the more popular parks/attractions in Markham include the following:
Whittamore's Farm
Toogood Pond Park
German Mills Settlers Park

Rouge National Urban Park
Milne Dam Conservation Area
Residential and commercial properties in Markham can also present the same level of charm and ambience as these communal settings; this appeal can be achieved through the expert tree care and certified arborist services offered by the professionals from Ontree.
Ontree has been delivering high-quality tree care services, including tree trimming and tree and stump removal, throughout Markham's neighbourhoods for 30 years. As a leading tree care company serving the City of Markham, Ontree's crews and arborists are highly visible as they address the tree care needs of homeowners and commercial property owners in this community with skill and efficiency.
Hiring a professional tree care services provider for residential or commercial properties in Markham can help attain/maintain curb appeal while safeguarding or increasing real estate values. Call the tree trimming and tree and stump removal experts from Ontree today at 416-412-2100 to request a complimentary assessment of the specific needs for your property.