Consider an ISA Certified Toronto Arborist When Tree Care Services are Needed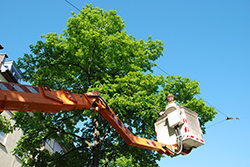 Sometimes, people will use certain terms interchangeably because they are truly under the impression that the words or phrases have identical meaning; one common example is a reference to visiting an eye doctor when they want/need to have their vision tested. The correct terminology for a specialist who does vision tests is an optometrist, while an eye doctor is actually called an ophthalmologist; but people will often associate eye tests with eye doctors and somehow, the point usually gets across and is understood.
Another less-common but equally important distinction is the difference between people who provide tree trimming services and individuals who are certified arborists; these two professions are in fact quite different with respect to their principal areas of interest and their overall responsibilities.
While both occupations encompass the trimming of trees on residential and commercial properties in Toronto, only a certified arborist has the aptitude to improve and safeguard short-term and long-term tree health. In fact, a certified arborist can provide a broader range of tree care services for Toronto property owners, including:
Pruning and trimming
Nutrition and fertilization
Tree planting or re-planting
Removal of trees and stumps
Soil maintenance and aeration
Assessment of overall tree health
Storm damage repair/cabling and bracing
Tree canopy shaping and weight balancing
Diagnosis and treatment of infestation or disease
For any arborist to effectively provide the tree care services needed by Toronto and area property owners, they must acquire, maintain, update, and consistently demonstrate an extensive range of knowledge and skills across all of the above areas of specialization. This expertise can be attained through a post-secondary education in such specialties as:
Forestry
Horticulture
Arboriculture
Alternatively, an arborist can obtain the background and training needed to provide their services through the combination of field experience and the successful completion of a comprehensive certification program administered by the ISA, or International Society of Arboriculture.
The ISA is a non-profit organization that is dedicated to tree care research and education around the world.  An arborist becomes ISA certified voluntarily, in order to maintain, update, and assess their knowledge and competency in the field of tree care. They must also participate in yearly training programs and educational conferences to sustain their active certification and to remain current with the latest accepted standards of practice.
Any arborist who elects to obtain their ISA certification is certainly committed to the tree care profession, as well as very confident in their knowledge and abilities within the field. Consequently, when Toronto property owners require any tree care services, they would be well-advised to consider an ISA certified arborist, such as the professionals employed by OnTree.
ISA Certified Arborists Understand Seasonal Tree Care for Properties in Toronto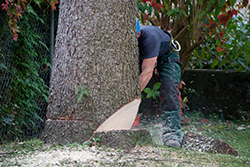 There can be several reasons why Toronto property owners might require the services of an ISA certified arborist to either enrich or protect the health of their trees or to improve the curb appeal of their home or business. Additionally, a Toronto arborist understands and knows how to manage the intricacies of tree care throughout the seasonal weather conditions experience throughout the city and its neighbouring communities.
To this latter point, the ISA certified arborists from OnTree can provide Toronto and area property owners with seasonal tree care services relative to:
The best types of trees to plant
When to plant, prune, and fertilize
Where to plant to gain the maximum effect
How to prevent damage from storms and high winds
How to repair damage by winds, ice, and winter storms
Recognition and treatment of localized disease/infestation
In addition, an OnTree arborist can prepare a comprehensive report for Toronto property owners on the condition of their trees and any recommended actions, to comply with city by-laws if/as required, for such circumstances as tree removals, site development, home improvement projects, and more.
See arborist services for more information on the arborist services provided by the ISA certified professionals at OnTree. To learn more about the detailed arborist reports available from OnTree for Toronto property owners, please go to arborist report.
For all your tree care needs, call an ISA certified arborist at OnTree in Toronto today at 416-412-2100 or contact us to schedule a no-obligation consultation on your specific requirements.