Over 20 Years Of Offering Tree Care Services In Toronto
The Ontree Tradition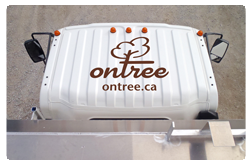 Ontree, your tree care specialist, helps clients in the GTA beautify their landscapes and increase the value of their properties. With over two decades of experience, and a long list of appreciative clients, Ontree has positioned itself as a go-to company for tree care in the GTA.
Known originally as Ontario Tree Experts, our company began as a small two-person operation in the mid 1980's. In 2010 the company rebranded and we became Ontree. The response to the new name has been overwhelmingly positive, and the new look of our fleet has generated many great comments.
Tree care has a bit of a varied past, with a precious few educated and dedicated professionals competing with unqualified practitioners. Luckily, over the past few decades, professionalism has won out. Ontree has always been firmly in the camp of the educated and dedicated professionals. Our staff is always properly educated, certified and trained. We are members of several professional organizations, including:
The International Society of Arboriculture
The National Arborist Association
The Ontario Commercial Arborists Association
Landscape Ontario
Since our inception in the 1980's, we have continued to expand the tree care services required by our many and varied clients. Today, Ontree can provide you with any of the major tree care services you may require. You may contact us anytime to find out how Ontree can add value to your landscape.
Our Mission
Ontree is committed to preserving the urban forest and developing customer relationships that will continually meet or exceed expectations. We intend to add value to our client's lives and properties. Our promise is to provide excellence in tree care by maintaining the highest standards of safety, knowledge and courtesy. We strive always to be a company that our clients will happily refer to their closest friends and most valued business partners.