Tree Removal, Pruning, And Arborist Services In The GTA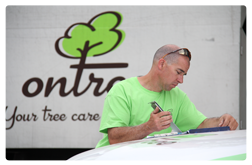 Home and business owners in Toronto and the GTA have enjoyed professional tree care services from Ontree's ISA Certified Arborists for over 20 years.
They appreciate the peace of mind that comes from professional, reliable and courteous tree care services, combined with competitive prices that are a feature of every Ontree project, large or small, residential or commercial.
The beauty and value of your home or property are enhanced by properly maintained trees. Healthy, well-pruned trees soothe the eye and provide wind protection, shade and shelter. Declining trees, or trees growing in the wrong place, can damage your property, or threaten safety.
Whether you need to improve the appearance or health of your tree, or to remove a hazardous one, you can trust Ontree to get the job done.
Many professionals also rely on Ontree's expertise, including:
| | |
| --- | --- |
| Property Managers | Builders |
| Planners | Landscapers |
| …and more | |
Every commercial client has a unique combination of trees and each client requires differing and distinct tree care and arborist services. We tailor our services to meet the client's specific needs and the requirements of their trees.
Our professional and courteous staff are a perfect complement to your own branding, providing a range of services, including: pruning, removals and tree maintenance.
Each of our services add value to your business. We perform our work safely and professionally, deliver on our promises, and aim to exceed your expectations. Find the solution that is right for your home or business. The Ontree team is eager to assist you.