Commercial Tree Services In The GTA
Ontree's ISA Certified Arborists have been delivering results to businesses since 1987.
Each of our commercial clients has a unique combination of trees and each client requires differing and distinct tree care and arborist services. We tailor our services to meet the client's specific needs and the requirements of their trees.
Our professional and courteous staff is a perfect adjunct to your own branding, providing a range of services that add value to your business. We perform our work safely and professionally, deliver on our promises, and aim to exceed your expectations. Find the solution that is right for your business. Our Ontree team is eager to assist you.
Ontree services a wide range of commercial clients that include:
Construction Related Professionals
| | | | | | | |
| --- | --- | --- | --- | --- | --- | --- |
| Planners | | Developers | | Builders | | Architects |
Some of the more common services we provide our clients in construction related industries are:
Tree preservation plans
Arborist reports

Tree pruning and removal
Tree injury mitigation and remediation
Insurance Companies
Ontree offers Insurance Companies a line of services complementary to their business:
Assessment of dangerous, hazardous or suspect trees
Valuation of trees
Assessment of the possible effects to a tree of unsolicited actions conducted by or against an insured
Provide professional opinions in court relating to the field of arboriculture
Landscape Companies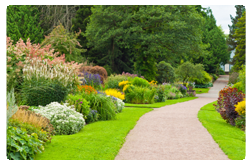 Most landscape companies are not equipped to care for medium to large sized trees, yet frequently come across such trees on the properties in their charge. Ontree fills that gap and adds to the reputability and professionalism of our landscape partners. Arborist services are conducted by Ontree's ISA Certified Arborists. Ontree partners with a wide variety of landscape companies, of all sizes and specializing in everything from maintenance to design and installation. Ontree's services are meant to complement the services landscape companies provide to their own clients.
Lawyers
Ontree's ISA Certified Arborists are qualified for and experienced in providing expert opinions for both plaintiffs and defendants in either court cases or at OMB hearings. Our arborists also provide written reports that can be used as court or OMB evidence.
Property Managers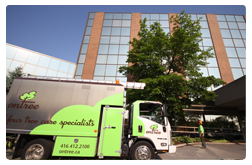 Ontree's ISA Certified Arborists currently assist a long list of property managers who reply on us for consistently excellent results combined with reliable and courteous customer service. We maintain the health and beauty of trees at many types of commercial and residential properties, helping to increase the value of the property, both tangible and intangible.
Ontree oversees the care and maintenance of many types of commercial and residential properties, including:
Condominiums
Town homes
Apartments

Community housing
Commercial buildings and units
Retail outlets
Ontree has long standing business relationships with many property managers because we are highly skilled at the types of services property managers are looking for:
| | | | | | | |
| --- | --- | --- | --- | --- | --- | --- |
| | | | | | | |
| Tree Pruning & Removals | | Storm & Emergency Responses | | Pest Control Services | | Fertilizing Services |
Real Estate Agents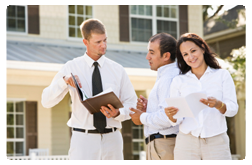 The number one reason real estate agents use Ontree's ISA Certified Arborists is to help increase curb appeal. Our arborists can make a complete assessment of the trees located on a property, and can determine the assets and liabilities associated with a single or multiple trees. All arborist services are completed by our highly trained and experienced crews.
Trees attached to a property can be a valuable asset or an expensive liability. On every job, large or small, Ontree's competitive prices and professional, friendly and courteous staff provide peace of mind to our clients. Include Ontree in your list of tree services.