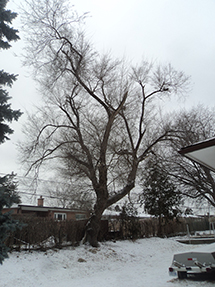 In our last article we outlined how trees in the GTA were recovering from the ice storm of 2013, but that they may need some help in the form of assessment and pruning. In this article, we will provide some visual references of the types of injuries your tree may have sustained in the crown.
The primary form of damage, trees sustained in the ice storm of 2013, was limb breakage caused by excessive ice loads. Species most affected were weaker wooded, and tended to have long, extending limbs. Siberian elm, silver maple and Manitoba maple in general sustained more damage than other species. Trees with pre-existing issues, such is cracks or splits, also sustained a large portion of damage.
The good news is that many of the trees that were injured are still alive and continuing to recover from the damage. The classic example many of us see in our neighbourhoods is the Siberian elm. Many elms lost large portions of their crowns in the storm, but two years later new "tufts" of growth have filled in the lost crown, giving the trees a nearly Dr. Seuss like appearance:
In order to ensure that damaged trees continue to recover, pruning may be required. The purpose of pruning injured trees can be to improve safety (deadwood, cracked or hanging limbs), or form (balance, exposed limbs, excessive sprouting). Here are some things to look for in the crown of your trees that will indicate pruning is definitely needed:
Ontree recommends that you contact an arborist to assess your tree for any pruning needs. Although some types of damage may be evident to a non- professional, an experienced arborist from Ontree would be able to identify less obvious problems, such as exposed limbs, or visible cracks.
Save