Toronto arborists provides birch leafminer treatment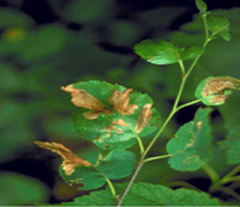 Birch leafminer, a type of sawfly which originated in Europe and attacks all types of birch trees, has long been a pest in birch trees in the GTA. Signs of the pest can be seen in the damage – translucent brown blotches on leaves:
In addition to being unsightly, the damage can cause stress in a birch tree, thereby becoming a possible factor in weakening the tree and making it more susceptible to serious problems such as bronze birch borer.
Prior to the introduction of the Cosmetic Pesticide Ban in Ontario, birch leafminer treatment included using products such as Lagon or Cygon, which were painted on the stem of the trees and absorbed into the leaf to kill the insect. Since the pesticide ban treatment options have been few and ineffective.
However, starting this year TreeAzin, a product from a Canadian based company called Bioforest and originally used to treat Emerald Ash Borer, is available to treat various insects including birch leafminer. TreeAzin has been given a Class 11 rating by the Ministry of the Environment, meaning it is a product that may be used to treat cosmetic as well as more serious plant pest problems.
If you or someone you know has a birch tree with a leafminer issue, contact Ontree for a free treatment estimate.
Save
Save
Save
Save