Diplodia Tip Blight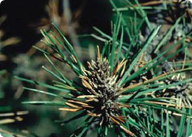 Diplodia is one of the most common and serious diseases of Austrian pines. It is caused by a fungus which becomes a destructive pathogen when its host is weakened by external factors.
This disease also attacks other two and three needled pines such as mugo, Scots, and red pines.
Symptoms
Drops of resin exuding from buds
Stunted, straw coloured branch tips
Dead buds with stunted needles
Dead needles and bark on one side of a branch
Causes
Diplodia can colonize most pines and some other conifers that are growing under unfavourable environmental conditions (poor soil, excessive heat, drought). Proximity to infected trees is also a key factor.
Treatment
The only effective control of Diplodia is fungicide treatment. Pruning can remove unsightly branches that are also sources of infection. Proper watering and fertilizing will contribute to increasing the tree's health and therefore its resistance to the disease. Finally, removal of fallen cones and needles will reduce sources of infection.
Save
Save