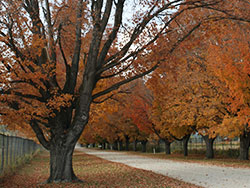 One of Canada's most loved tree species, the Sugar maple (Acer saccharum), may be in decline again. A tree that is supposed to have a longevity of 300 years (with the oldest in Canada being the Comfort maple, at 500 years) is dying at about 80-100 years old or less. Urban trees generally do have a lower lifespan due to factors such as pollutants (car exhaust and salt), lack of water, soil compaction, excess heat from hardscape and buildings and less biodiversity (less predators for pests).
Scientists are not clear on whether the decline is natural; there having been 3 periods of decline in the past 100 years, man-made, or a combination of the two.
Regardless of the reason, there are things owners of sugar maples can do to help prolong the lives of these iconic trees:
Plant sugar maples in soils that are well drained, acidic and moist
Keep salt away from the roots and flush away salts in late winter/early spring
Provide adequate protection around the tree if construction activities are planned
Aerate compacted soils
Water, especially during the summer months
Mulch under the crown
Fertilize the root system
If you need help with the care of your sugar maple, or with any of your trees, contact Ontree.
Save